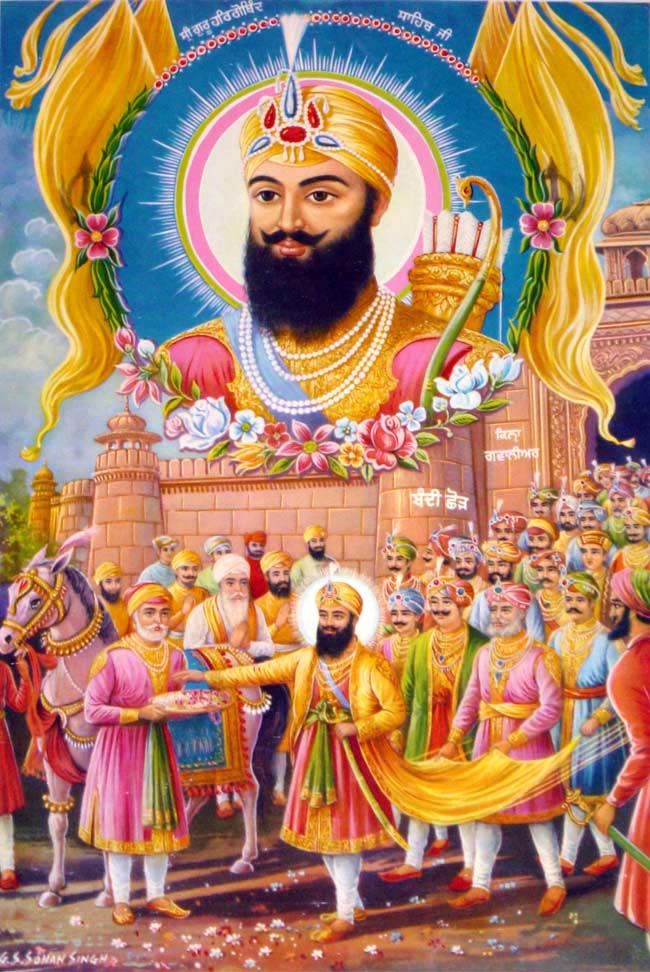 Bandi Chhor Divas ("Day of Liberation") (ਬੰਦੀ ਛੋੜ ਦਿਵਸ) is a Sikh holiday which coincides with the day of Diwali. Sikhs historically celebrated Diwali along with Hindus, with Guru Amar Das explicitly listing it along with Vaisakhi as a festival for Sikhs. In late 20th century, Sikh religious leaders increasingly called Diwali as Bandi Chhor Divas, and the Shiromani Gurdwara Parbandhak Committee adopted this name along with the Nanakshahi calendar in 2003.
Unlike the Hindu festival of Diwali whose significance is based on the texts and scriptures of Hinduism, Bandi Chhor Divas celebrates a Sikh historic event related to the sixth Guru, Guru Hargobind. According to Sikh history, on this day, Guru Hargobind was released from prison by the Mughal Emperor Jahangir who freed 52 other Hindu kings with him.
The Bandi Chhor Divas is celebrated in a manner similar to Diwali, with the lighting of homes and Gurdwaras, feasts, gift giving and family time. It is an important Sikh celebration along with Vaisakhi, Maghi, Holi with Hola Mohalla and Gurpurab.
History and significance
Guru Hargobind's father Guru Arjan was arrested under the orders of the Mughal Emperor Jahangir and he was asked to convert to Islam. He refused, was tortured and executed in 1606 CE. This event is remembered as a defining moment in Sikh history and as the martyrdom of Guru Arjan. After the execution, Guru Hargobind succeeded his father as the next Guru of Sikhism.
Guru Hargobind, on 24 June 1606, at age 11, was crowned as the sixth Sikh Guru. At his succession ceremony, he put on two swords: one indicated his spiritual authority (piri) and the other, his temporal authority (miri). Because of the execution of Guru Arjan by Mughal Emperor Jahangir, Guru Hargobind from the very start was a dedicated enemy of the Mughal rule. He advised Sikhs to arm and fight. The death of his father at the hands of Jahangir prompted him to emphasise the military dimension of the Sikh community.
Jahangir responded by jailing the 14 year old Guru Hargobind at Gwalior Fort in 1609, on the pretext that the fine imposed on Guru Arjan had not been paid by the Sikhs and Guru Hargobind. It is not clear as to how much time he spent as a prisoner. The year of his release appears to have been either 1611 or 1612, when Guru Hargobind was about 16 years old. Persian records, such as Dabistan i Mazahib suggest he was kept in jail for twelve years, including over 1617-1619 in Gwalior, after which he and his camp were kept under Muslim army's surveillance by Jahangir. According to Sikh tradition, Guru Hargobind was released from the bondage of prison on Diwali. This important event in Sikh history is now termed the Bandi Chhor Divas festival.